2022 Conference Information
Commitment to Excellence: Past, Present, Future
October 2 -4, 2022

Osthoff Resort - Elkhart Lake, WI
We are looking forward to another great conference. See everyone soon!
We are continuing with online conference registration this year!
WCA will still be collecting payments, but all attendee information will continue to be done electronically.

Registration is open! Please read the instructions below then click on the blue button below to register online. 


If you have any questions regarding registration, please contact
Amy Brodhead or John St. Louis

If you have any questions regarding the conference, please contact 
Amanda Ditter or Sherry Govier
Click on the blue "Register Now" button below to access the registration website
Select the appropriate registration ticket (Member Registration, Non-Member Registration, Student Registration, etc).
Enter all information and click "submit"
Payment: Please see information below.
You will receive a confirmation email for your registration.  See you in September!
No registration cancellation refunds will be given after September 9th.  
The latest day to switch your registration with another person is September 9th.  
If you are registering as a DOC employee & DOC is paying:
The DOC will only pay for the member rate ($125), so be sure that you have applied and paid for an ACA/WCA membership.  Click here to do so! Your division's administrative staff will process your registration payment with everyone else's in the form of a check.  Administrative staff should send an attendee list with payment of who is covered for that payment.  
If you are registering & not a DOC employee or the DOC is not paying for your registration:
You may mail your check or contact Emily Bortz, WCA Treasurer, for other payment options.  If you are paying for multiple attendees in one lump sum, please identify those attendees with your payment.
Please mail all checks to:
Wisconsin Correctional Association
PO Box 8671
Madison, WI 53708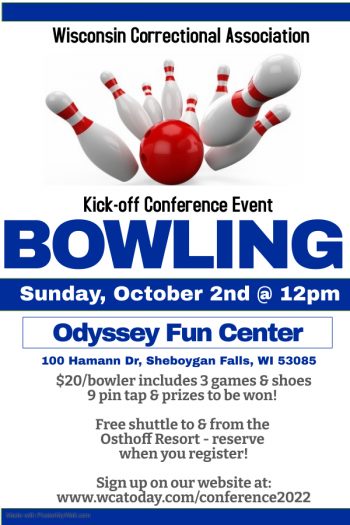 Join us for our annual bowling tournament to kick off the conference!
Click here

for more details & to register. 
Want to win a prize at the conference? 

For every 2 can items you bring for our community service project to the conference, 
you'll receive 1 raffle ticket for a $25 Target gift card! 
Click here for 2022 Community Service Project details and wish lists!
Want to win another $25 Target gift card? Make sure you fill out your evaluation form and turn it in at the end of the conference.  Winner will be drawn at Tuesday's lunch and you must be present to win!
President's Reception - Networking event
SwitchGear Brewing Company
Walking distance from the Osthoff Resort
44d Gottfried St, Elkhart Lake, WI 53020
Raffle Drawings & Community Service Item Collection
Breakfast with the Exhibitors
Break with the Exhibitors
See breakout descriptions for locations
See breakout descriptions for locations
See breakout descriptions for locations
Stamp Card Raffle Drawing
Entertainment & Appetizers
NEW Piano Guys Dueling Pianos Show
See breakout descriptions for locations
See breakout descriptions for locations
Scholarship Luncheon, Raffle Drawing and Swearing-In of New Board Members
Copyright 2022 - Wisconsin Correctional Association - All Rights Reserved