2023 Conference Information
Equity and Inclusion: Embracing Diversity in Corrections
October 15 - 17, 2023

Holiday Inn - Stevens Point, WI
We are looking forward to another great conference. See everyone soon!
We are continuing with online conference registration this year!
WCA will still be collecting payments, but all attendee information will continue to be done electronically.

Full conference rates:
$135 for ACA/WCA Members 
$170 for Non-Members
$120 for Students

Single day rates:
$80 for ACA/WCA Members
$100 for Non-Members
$60 for Students

Registration is open! Please read the instructions below then click on the blue button below to register online. 


If you have any questions regarding registration, please contact
Rebecca Vance or Joshua Nolte

If you have any questions regarding the conference, please contact 
Roger Burczyk or Chad Engebregtsen
Click on the blue "Register Now" button below to access the registration website
Select the appropriate registration ticket (Member Registration, Non-Member Registration, Student Registration, etc).
Enter all information and click "submit"
Payment: Please see information below.
No registration cancellation refunds will be given after September 29th.  
The latest day to switch your registration with another person is September 29th.  
If you are registering as a DOC employee & DOC is paying:
The DOC will only pay for the member rate ($135), so be sure that you have applied and paid for an ACA/WCA membership.  Click here to do so! Your division's administrative staff will process your registration payment with everyone else's in the form of a check.  Administrative staff should send an attendee list with payment of who is covered for that payment.  
If you are registering & not a DOC employee or the DOC is not paying for your registration:
You may mail your check or contact Emily Bortz, WCA Treasurer, for other payment options.  If you are paying for multiple attendees in one lump sum, please identify those attendees with your payment.
Please mail all checks to:
Wisconsin Correctional Association
PO Box 8671
Madison, WI 53708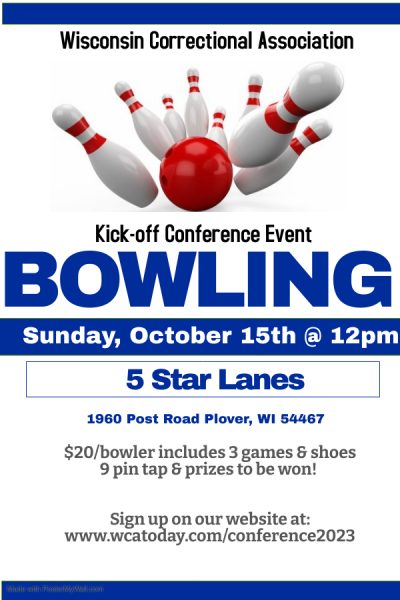 Join us for our annual bowling tournament to kick off the conference on Sunday, October 15. To register, please email wcabowling@hotmail.com

If you don't have a team of 5, no problem! We will place you on a team!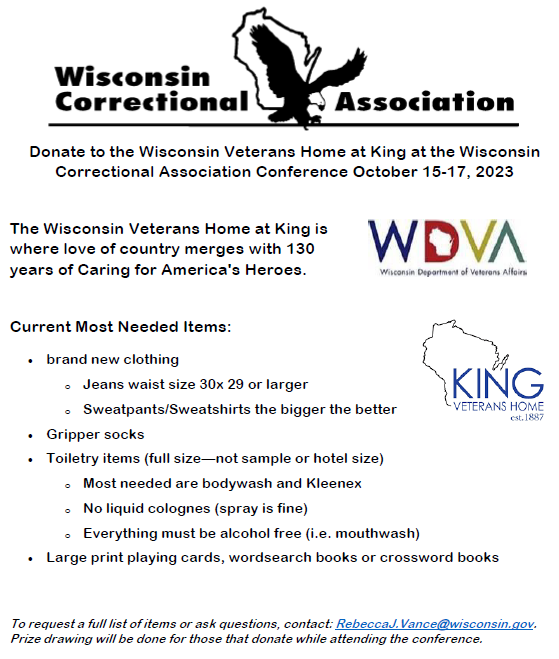 President's Reception with Karaoke- Networking event
Raffle Drawings & Community Service Item Collection
Breakfast with the Exhibitors
Conference Center Ballroom
Conference Center Ballroom
Conference Center Ballroom
Break with the Exhibitors
Conference Center Ballroom
See breakout descriptions for locations
Conference Center Ballroom
Conference Center Ballroom
See breakout descriptions for locations
Conference Center Ballroom
See breakout descriptions for locations
Stamp Card Raffle Drawing
Conference Center Ballroom
Entertainment & Appetizers
Spicy Tie Band
Conference Center Ballroom
Conference Center Ballroom
Conference Center Ballroom
See breakout descriptions for locations
Scholarship Luncheon, Raffle Drawing and Swearing-In of New Board Members
Conference Center Ballroom
Copyright 2023 - Wisconsin Correctional Association - All Rights Reserved