Wisconsin Correctional Association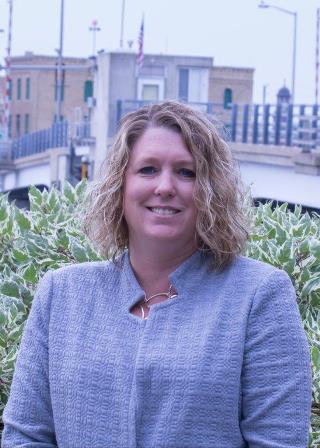 I am beyond excited and honored to serve as President of the Wisconsin Correctional Association for the next two years!
To our departing Board Members, thank you for your friendship, mentorship, time, and dedication to the membership and the organization. Each of you have contributed so much, in individual and meaningful ways that will benefit the membership and organization for years to come. We hope that you continue with our organization for years to come.
To our incoming members of the Board of Directors, Welcome! Thank you for the time and dedication that you will give as member of the Board of Directors. I am excited for the enthusiasm that each of you has already shown for the positions you are holding and towards the mission of WCA. I am excited to be working with each of you!
An additional thank you to Past President Todd Timm for conducting the swearing in of new board members via technology on November 13th, that was a first for our organization!
To our membership, whether you are a new member or member for years, thank you for being a part of the Wisconsin Correctional Association. Our members are the heart of the organization. The Board of Directors is working to provide all of you with meaningful opportunities that will assist you enhance your learning and development in your corrections career. After our first meeting I was able to reflect on the fantastic ideas that we brainstormed for the next couple of years ahead! Planning has already started for virtual training opportunities. Additionally, the Board of Directors has charged the Conference planning committee to plan the 2021 WCA Conference in the Wisconsin Dells in a way that could allow participants to attend in person (optimal) and virtually. Each member of the board of directors feels strongly that we will be able to host a conference, even if it looks different than what we are used to.
On behalf of the Board of Directors, we would like to wish all our members a safe and healthy holiday season. I am hopeful that 2021 has great things in store for all of us, personally and professionally. In corrections, we talk a lot about how resilient we are and how we manage through difficult times. This year has brought forth new challenges that many of us have never had to maneuver personally or professionally. It has been a year of ups and downs, but we continue to persevere day by day as a team. Please take good care of yourselves and each other!
Follow us on Facebook for even more updates!  Search: Wisconsin Correctional Association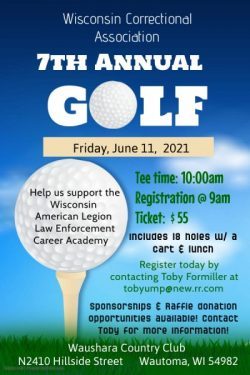 Join us for the 7th Annual Golf Outing!
Cash and merchandise prizes!

Friday, June 11, 2021
Waushara Country Club

Sponsor a hole or donate items for the raffle.
Click here for more information and to sign up! 
2021 Conference Information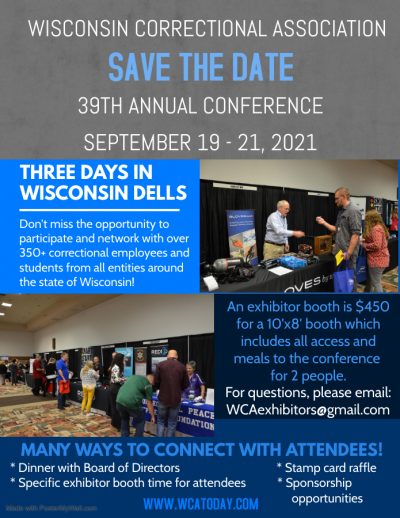 Join us September 19-21, 2021 at the Wilderness Resort in Wisconsin Dells.  The conference planning committee is busy planning, so check back for updates. 

If your company or organization is interested in exhibiting or sponsoring at the 2021 conference, please contact Ashley Melanson at WCAExhibitors@gmail.com with questions and for more information. 
Copyright 2021 - Wisconsin Correctional Association - All Rights Reserved