Our Valued Sponsors & Exhibitors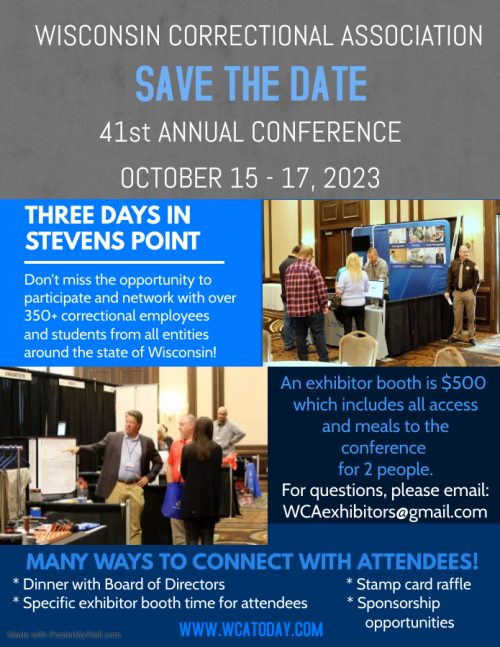 Join us at the 2023 conference: 

October 15-17, 2023, at the Holiday Inn in Stevens Point!

  Please contact Ashley Melanson with any questions at WCAExhibitors@gmail.com 


Since 1985, the Wisconsin Correctional Association has been dedicated to providing a forum for the Wisconsin correctional community and positively impacting the criminal justice system in Wisconsin for those both within the system and the public at large. The WCA recognizes the importance of a wide range of members from federal, state, county, local and community employers as well as our universities and colleges related to corrections.  We welcome members from all fields.  Our mission is to provide a focal point for the identification of interests and concerns for corrections as part of the criminal justice system in Wisconsin.  We also strive to provide an opportunity for active participation in professional development for those employed in corrections in Wisconsin.

WHY BE AN EXHIBITOR?

When you participate in the Wisconsin Correctional Association Conference as an exhibitor and/or sponsor, your organization's message will directly reach more than 300 individuals at the conference including correctional officers, social workers, probation and parole agents, executive staff, wardens, administrators, first-line supervisors, county jail staff, treatment providers, court staff, professors, students and other professionals in the criminal justice field.  In turn, these individuals bring your marketing materials and products to their decision makers, workgroups and committees to discuss potentially utilizing your services.
QUESTIONS?
Copyright 2023- Wisconsin Correctional Association - All Rights Reserved